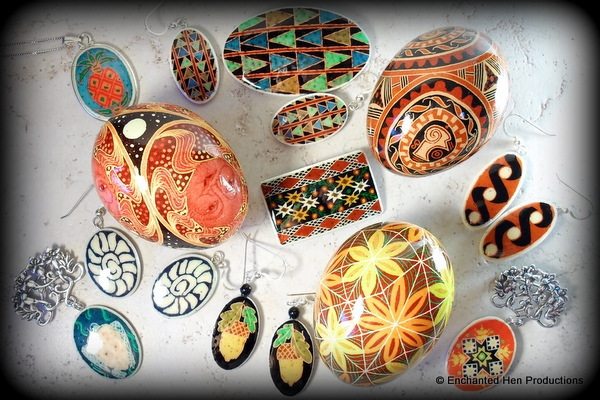 Egg Art is an ancient craft practiced by humans from the beginning of time. Used for ceremonial as well as decorative purposes, the eggshell provides a unique surface much like pottery where a design can be wrapped around the ovoid shape creating distortions and interesting effects at the narrow top and the wider bottom of the egg.
Egg shells from large birds (ostrich, emu, rhea etc) have been used for jewelry beads and pendants.  Some of the oldest ostrich shell jewelry pieces have been etched or incised, and then soaked in a natural berry or plant brew to bring out the design.
It's a fascinating art.
At Enchanted Hen Productions you will discover unique versions of this unusual and uncommon art form, hand-drawn and dyed by New Mexican artisan Nanette Thorell who is inspired by ethnic and cultural art, quilt patterns, western design, European folk art, Mexican folk art, and (of course) Mother Nature.
Decorated Eggs, on display stands
Decorated Eggs as hanging ornaments
Ostrich and Emu egg shell Jewelry:
Pendant Necklaces
Beaded Necklaces with large focus piece
Dangle Earrings
Oval Brooches
Lapel or Hat Pins
Matching Jewelry Sets
Pysanka eggs and jewelry