Egg Art Design Bio: The Four Suns
All my eggs have their own personality. As I work, anything I am listening to (music, audiobook, radio) gets infused into the egg along with the design. It's funny – eggs take several days to make, and when I come back to an egg after a break – whatever music or chapter of the audiobook I had been listening to, pops back into my head as soon as I pick up the egg again and begin to work. Must be a brain-thing. But I digress . . .
The Four Suns egg (affectionately known as 'Celeste') is one of my favorite designs. I have made at least 38 of these multi-faced girls. I love the oranges and reds blending in the fiery rays of the sun. This is also one of my most difficult egg designs to make (hence, the price).
Celeste has evolved considerably over the years. I made my first on in 1996 (according to my part-number log) copied from a Pysanka Poster that I purchased online at The Polish Art Center
Unfortunately, I do not have a picture of my original egg (probably a good thing, I'm sure it was pretty scary) but it looked somewhat like this: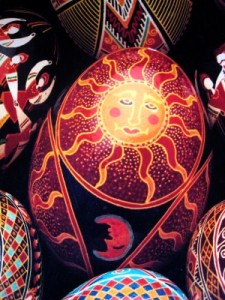 The evolution of this particular design began with an altering of the sun rays, which I changed almost immediately as seen in this early version: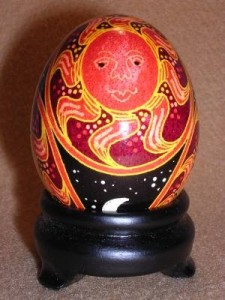 I finally settled on rays (I was going for 'shimmer') and went on to tackle the face. The face has become the biggest challenge. Using the light-to-dark progression of the batik process, it is easiest to draw the facial features first using light colors. But it doesn't look right.

Trial and error ensued. Finally, using the toothbrush rubbing technique, I was able to achieve a face that made me happy. One with dark lines and a lighter background. This is the latest version: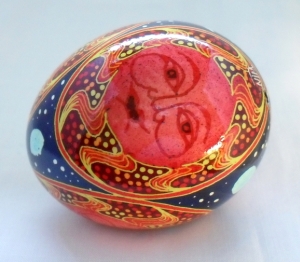 And of course, during this creative process, I had to apply Celeste to jewelry as well. The jewelry design, too, has evolved over the years.
---
Go back to the full list of articles