Thoughts on the Drop-Pull Style of Egg Art (and how I can't draw animals on eggs)
I was wandering the internet looking for others of my ilk, and came across the following article from a Milwaukee, Wisconsin online newspaper.
Artisans carry on the art of the egg – JSOnline.
I have always been impressed and a little bit awed with artists who can paint freehand on an egg, like those in the leading photo. My particular talent leans toward geometric design with particular emphasis on color combinations. Painting a live animal such as a bird or a dog on an egg? Nawww. Mine end up looking very juvenile and it's a good way to frustrate myself into multiple stabbings of my block of beeswax with my penknife.
The closest success I have had with animal subjects is my little Corinthian Owl egg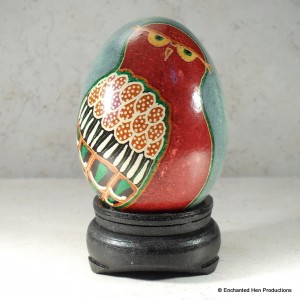 which is a variation on a design I found in my Janson's Art History book. A little more about this intriguing piece of art can be found on Sulpicia (III)'s Platonic Psychology blog, which is an adventure into the philosophy and language of ancient Greece.
But, back to the artists of Wisconsin . . . Barbara Godlewski's drop-pull style eggs. Love these! Now this is more my style and I want to give it a try someday.
Here is a pretty good YouTube video demonstrating the process:

I admit I was slightly intimidated by the quantity of eggs Barbara (who is 71 years at the time of the article) produces in a year. If you didn't get that far into the article – it's 20,000. Yes. Twenty-thousand! Wow. You GO Barbara!
---
Go back to the full list of articles